Once again, I felt ridiculous typing that title.
This is just a post to fill the necessary space. Tonight I will be attending the concert in Portland, Oregon, and I am ready to rock and roll. I have my earplugs for when Pia Toscano performs (seriously, that girl will bore me to death), the same earplugs for when Jacob Lusk performs (I should probably also bring an eye mask, just in case he gyrates for Jesus again), and my rhinestone cowboy shirt to catch Paul McDonald's attention. We are in Row Nine seats, and I am super pumped.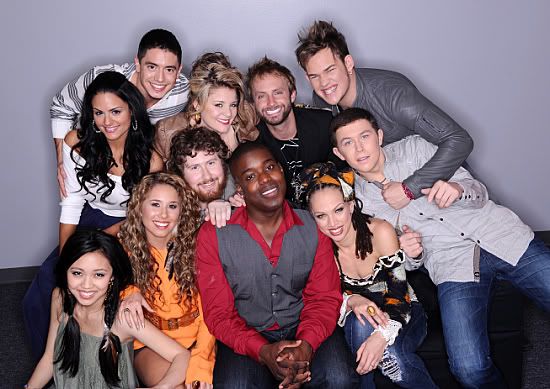 I could do without seeing most of these people.
I'm really only going to the concert to see PMcD, James Durbin, and Casey Abrams. I'll sit through Scotty McCreery (hopefully he reverts back to his fluting ways), Haley Reinhart, and the other average performances.
To get all of us pumped up, here are some videos from PMcD, Twitch, and Cabrams (how I've missed using those nicknames...):
There you have it, folks. The pre-show to the American Idol Portland Concert. If you're going, I'll see you there (it will be hard to miss the girl in the rhinestone covered shirt). If you're not, I'll let you know all about it upon my return.